Clean Eating Made Simple
In Just 7 Days
Interested in getting healthier? Learn the clean eating lifestyle in just

7

days!
I know you… You're the person who wants to get healthier but isn't sure where to
start…you, who's intrigued by healthy eating but not interested in giving up your
favorite dishes. I want to have an honest conversation with you.
What do you think of when you read these words?
Easy          Simple          Inclusive
Probably not clean eating. I know… I didn't think so at first either. But that's exactly what it is.
Maybe you've thought about clean eating before… maybe you don't know what it is.
Either way, I know clean eating is a practice that can serve you well. And, I also know
you might have a ton of reasons why you're not ready to try it… yet.
But I want to make sure you understand something important…
Clean eating doesn't have to be hard.
Or bland. Or complicated. 
I promise.
How do I know? Because I was in your shoes once, too. I struggled with bad eating
habits. I didn't know the dangers of what I was putting in my body or the toll it took
on my health. I was tired and lethargic, foggy in the brain, and had heaviness in my
body. All. The. Time. I wanted to change things, but I didn't want to give up what I
loved most about food – the flavor, the variety, the convenience.
Then I learned that I didn't have to
I started following basic clean eating principles and watched my body (and mind)
transform. I had more energy. I was thinking clearly. My stamina increased and my
irritability dropped. I felt stronger, sharper, and more alive. And I want to help you
feel that way too!
TAKE CLEAN EATING OUT FOR A TEST RUN
Clean Eating Made Simple is a 7-day eCourse designed to give you – the newbie, the beginner, the 'I want to change but I don't know where to start' folk - a taste of the clean eating life. For one week, you can try out simple, yummy, and easy-to-make meals and see how it works for you!
In this eCourse, you will learn what clean eating is (and what it's not!) and get lots of easy-to-follow recipes that you can try out on your taste buds. If you like one of 'em, great! Put it in your recipe book! If not, don't worry... there are tons of other ones to try!
But here's the secret to this program. We don't jump into the deep end of the pool. We don't clean out our pantries and swear off all of our favorite foods.
We start small and take baby steps.
This program isn't designed to be all or nothing. It gives you the building blocks to help you make gradual and sustainable shifts to your eating habits. Sound intriguing? Here's a peek at the process...

I haven't spent one dime this week at the office cafe because
of the prep! The long work hours didn't leave me hungry because
I had meals planned. Thanks Risa Lynch and group for the help.
~ Debbie C.
This has made me more accountable! I thought I was eating pretty
"clean" most of the time but this has made me more aware! I feel
way less bloated. Nothing feels swollen when I wake up! I feel
better about my choices and at the end of the day, that makes
me happy.  ~ Christina C. 
Thank you Risa! The recipes are great! I've lost two pounds and this has been a great reminder of how to eat clean! I've thought I was eating clean but have become aware of some bad habits that were creeping in over time! ~ Jody W.
I have never been one to create things from scratch - I lacked
the know how and feared the time!! However, I learned
differently!!! Once I actually purchased all of the spices and
ingredients necessary, prepping and cooking with the recipes
provided was great!!! I loved the simplicity of many of the
recipes! Thank you so much for your support, Risa!!  ~ Kacee C.
After just 7 days you'll have:
1. The understanding of what it means to eat clean
2. The know how to truly choose healthier foods without taking hours pouring over labels
3. The know how to make healthier substitutions that will go unnoticed by your family
4. The realization that food truly does fuel your body and CAN make you have MORE ENERGY
5. The ability to meal plan, prep, shop and chop

HOW IT WORKS
The program is simple. You receive one email every day for 7 days that includes great information like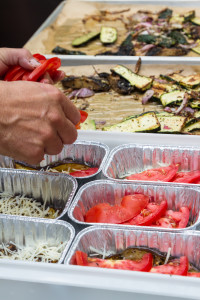 ~ what clean eating is and isn't
~ how to plan, prep, shop, and chop
~ helpful hints for better product options (like which yogurt is the best one for clean eating)
~ easy cooking methods

AND of course tons of recipes for breakfast, lunch, snacks, dinner and yes, even desserts! A girl gotta have some sweet treats!

You'll also get videos along the way to show you healthier store bought products, and cooking demonstrations.
Plus, you'll get these BONUS gifts:
Bonus #1: The Pantry Success Checklist
Bonus #2: A live facebook group "Clean Eating Made Simple" where you can ask questions, post ingredient lists, and get extra support throughout the week. Plus a few extra recipes!
Bonus #3: Live access to me in the FB group or via email if you don't do facebook groups.
Who this program is for:
       • Newbies and beginners who don't know where to start
       • People have heard of clean eating but unsure of what it means
       • Folks who want to try clean eating on and see if it's a good fit for them
Here's the deal. Clean eating doesn't have to be hard or take hours everyday.
It does take SOME time, I won't lie to you there, but not hours on end like you would think.
And the benefits of clean eating are beyond what you can imagine. I promise.
So what do you think? Is clean eating right for you?
Why not test it out for a week, just to give it a shot.
What have you got to lose?