Coconut oil coffee? WAH??? I know it sounds crazy, but it's actually crazy good!
I normally need some type of creamer in my coffee, and unless I have my homemade almond milk nothing really tastes that great UNTIL I tried coconut oil coffee. When you blend it, it makes a nice creamy froth, it looks like you've added cream, and tastes smooth and creamy. I love it!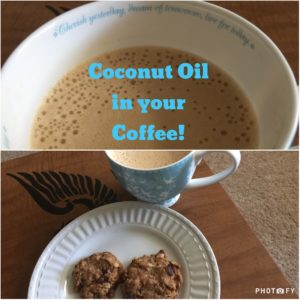 So why coconut oil? Well coconut oil has LOTS of health benefits – check out just a few of them –
1. increases metabolism and improves energy levels
2. supports thyroid function
3. promotes weight loss
4. improves calcium and magnesium absorption in the body, which benefits bone and dental health
5. improves your skin when applied topically
6. helps in your digestion
7. supports the immune system
Here's how I make mine.
Just add 1 teaspoon of coconut oil OR MCT oil to your normal coffee and blend.
I'm always up for trying anything at least once, so I say give it a try. Add a couple of GREAT vegan chocolate chip cookies and you'll be all set!
Let me know if you try it and what you think. Did you do something differently?
If this has been helpful and you know that someone else could use this information please SHARE IT and PIN IT! And don't forget to leave me a comment below!!! I LOVE to hear from you AND I'd love to hear WHAT I could help you with in the future!!
As Always ~ Remember
Eat Clean ~ Stay Lean 
Risa