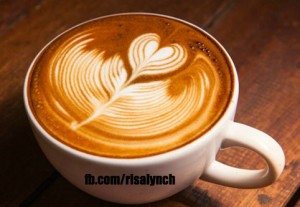 It's Fall! The weather is starting to get cooler and Team Beachbody posted a picture of a pumpkin latte and I HAD to have some! 
Pumpkin has many health benefits. It's rich in dietary fiber, anti-oxidants, minerals, and vitamins. It's high in vitamin A,C, and E, and it's also a good source of B-complex group of vitamins like folates, niacin, and vitamin B-6.
Like many of you I used to love the starbucks specialty drinks like the pumpkin latte, the salted caramel mocha, the gingerbread latte etc.  I always got them with WAY less pumps, BUT they still are loaded with calories and NO nutritional value. I'm not even sure if the pumpkin latte has any pumpkin in it.

I made the original recipe that they posted but it wasn't sweet at all and really needed a little sweetness. Maybe I made my coffee too strong :), but I LOVE strong coffee!
So, I decided to make a few changes to the recipe. Here they are:
Ingredients:
1 cup almond milk or coconut milk – I made it with both and either is good.
2 TBSP or even more of 100% pumpkin puree
1/8 tsp of pumpkin spice
1/4 tsp of cinnamon
2 tsp of vanilla extract
1 tsp maple syrup + 1 4g packet of organic coconut sugar ~ you could just add more maple syrup, or just use coconut sugar
1, 8 oz cup of brewed black coffee
1 dash of ground nutmeg to taste(I didn't use any)
**Note: you may want to add more sweetener – you could also add stevia if you like that flavor
Step 1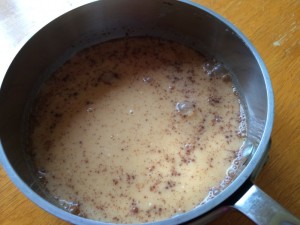 Heat the milk, pumpkin puree, pumpkin pie spice, cinnamon, and vanilla extract in a small to medium saucepan(depending how many you're making) over medium heat. Use a whisk to combine the ingredients. Cook for 4-5 minutes, or until mixture is hot, but not boiling. When you see tiny bubbles along the side of the pan it's ready.
Step 2
Remove from heat and either whisk vigorously OR put it in your blender or bullet and blend about a min until frothy.  Pour coffee into serving mug, top with pumpkin mixture, sprinkle with nutmeg if desired. 
Step 3
Enjoy!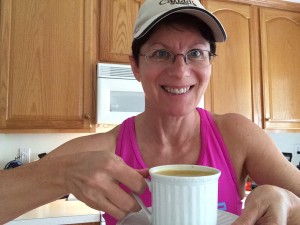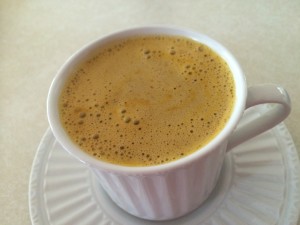 If this has been helpful and you know that someone else could use this information please SHARE IT and PIN IT! And don't forget to leave me a comment below!!! I LOVE to hear from you AND I'd love to hear WHAT I could help you with in the future!! 
As Always ~ Remember 
Eat Clean ~ Stay Lean
Risa
PS:
Need a little treat? Check out my 4 Ingredient Chocolate!