What an easy dessert recipe I have for YOU!
Sometimes you just want something a little sweet, but you're trying to be good and not run up to skinny dip or fat frogs or whatever other ice cream or frozen yogurt shop is near YOU! 
Those places are laden with sugar and other toppings that will set you back weeks at a time. SO!! Good news!! YOU can have that treat AND NOT feel guilty!
You can't ask for more than that! Right??? WAIT!!!  It's only 4 ingredients!! How can I pass it up??!!!
Thank you to my friend Alisha for finding me this great recipe! And to her mom Michelle for taste testing!!

Check out this quick video and see how you can impress your family and friends with this YUMMY dessert! And the possibilities are endless!

Recipe from KELLY SENYEI
Ingredients:
4 cups of frozen fruit
1/2 cup of plain greek yogurt
3 Tbsp of honey
1 TBsp of fresh lemon juice
What do you do?
Just put everything in the food processor and process until smooth. You will most likely need to pulse it a bit so that all the chunks get chopped down. You could leave some chunks in if you like!
Let me know what YOU do and how it comes out! Leave me a comment below!
I ALWAYS love to hear from YOU! If you found this helpful please SHARE and don't forget to PIN IT!
As Always ~ Remember 
Eat Clean ~ Stay Lean
Risa
PS:
Need a little treat? Check out my 4 Ingredient Chocolate!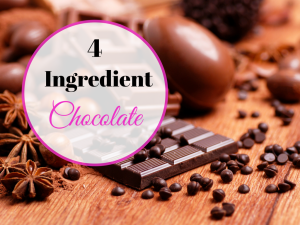 Click Here to schedule a free 20 min Health Coaching consultation so you can feel your best!