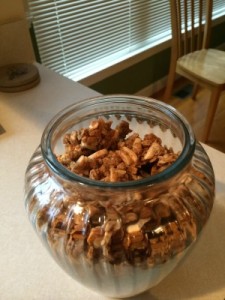 Sometimes you just want something crunchy and a little bit sweet.  Granola is a great solution!  It not only has great wholesome ingredients like old fashion oatmeal that will help lower your cholesterol, but healthy fats and proteins in the nuts that you'll add.   Why not just get store bought granola you might ask – because there are all sorts of ingredients in those store bought ones that you don't want to be eating.  Your body doesn't recognize all those preservatives, and it doesn't run well on refined sugars, corn syrup, canola oil, cornstarch, and soy lecithin, just to name a few ingredients that you'll find in processed granolas.  It's really easy to make your own and then you know what you're eating and you control the sugar amount too! There are a lot more things that you can add besides what's in the recipe. You can pretty much add any type of nuts that you like, or any type of dried fruit, maybe some unsweetened coconut, or some chocolate chips(though you don't want to add these before you bake it, do it after, you can add cocoa powder before you bake though). So here's the recipe. I've adapted it from Melissa Costello's Get Up And Go Granola in Tony Horton's Bring It book.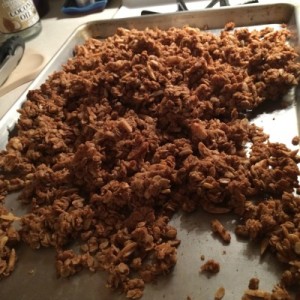 What you'll need for your granola made healthy!
3 Cups of rolled oats (not instant) I use old fashioned oats
1 Cup Flaxseed Meal
1 TBSP Cinnamon
1/2 TSP Sea Salt – I actually often leave this out
3/4 Cup Melted Coconut Oil
1/2 – 3/4 Cup Maple Syrup or Honey
1 TSP Vanilla Extract or Almond Extract – or one of each 🙂
1/4 Cup of each – Walnuts, Almond Slivers, Sunflower Seeds – you can use whatever nuts you like
You can also add dried fruits.
What to do:
Preheat oven to 350. In a large mixing bowl mix all the dry ingredients until well incorporated. I then mix all the wet ingredients and then pour the wet over the dry while constantly mixing so that it all gets incorporated. Spread it evenly onto the baking sheet and bake for about 25-30 minutes, tossing halfway through. Take out and let sit for 15-30 minutes so it will get crisp. Store in an airtight container.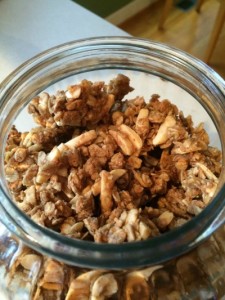 So now that you have your granola, what can you do with it?
Add it to yogurt for some great crunch and texture, add it on top of a thick smoothie or the wendy's frosty shakeology recipe, have it in a bowl with milk or almond milk. Just eat it plain for a little snack on the go.
Let me know how you like this recipe by commenting below!
If this has been helpful and you know that someone else could use this information please SHARE IT and PIN IT! And don't forget to leave me a comment below!!! I LOVE to hear from you AND I'd love to hear WHAT I could help you with in the future!! 
As Always ~ Remember 
Eat Clean ~ Stay Lean
Risa
PS:
Need a little treat? Check out my 4 Ingredient Chocolate!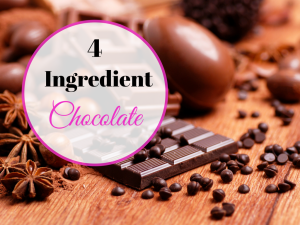 Click Here to schedule a free 20 min Health Coaching consultation so you can feel your best!