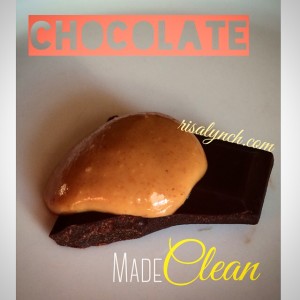 When I learned how to make homemade chocolate I was so excited!  Who doesn't like chocolate? Most chocolate has all sorts of ingredients that you can't pronounce and don't want to eat.  This recipe only has 4 ingredients. Yes 4!! How cool is that? And it's the easiest thing to make as you'll see in this short and sweet video 🙂 
You can make a bunch of this up and use it in recipes like chocolate chip cookies and the banana chocolate chip muffins.  It tastes just like rich bitter sweet chocolate.
Check out my fun and goofy video I made with my Sweetie! Our neighbor came to video tape and get in on the fun – he's a nut!

Now how easy was that? Doesn't it just make the most beautiful chocolate? You'll feel like a chocolatier when you're done with this recipe, and it works every time 🙂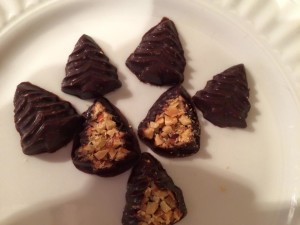 *****Update*****
I recently found out about coconut mana – this is pureed coconut, like coconut butter. So I've been adding this to my recipe sometimes – not all the time. It does give it a richer flavor.
I now add 1/4 cup coconut mana and 1 tsp of vanilla extract. Try it and see what you think!
How To Make Homemade Chocolate Recipe – Only 4 Ingredients!!
1/2 cup coconut oil, melted
6 heaping TBS of raw cacao powder (or regular unsweetened cocoa powder)
4 TBS of 100% maple syrup
pinch of sea salt
Mix all of the ingredients into a bowl.  Pour into chocolate molds, freeze for about 15-20 minutes or until set. Gently tap out the chocolate.
Now just a note:  This chocolate melts quicker than regular chocolate, so make sure you keep it in the frig or the freezer and put it back in the frig or freezer once you serve it and your guests are done.
Lastly, if you're worried about the saturated fat in coconut oil, remember that it's the good saturated fat and check out my previous post that talks about all the great benefits of coconut oil.
I'd love to hear how this recipe worked for you and if you came up with any other great ideas of how to use it.  So, please leave me a comment below and if you love this recipe SHARE with your friends!
I ALWAYS love to hear from YOU! If you found this helpful please SHARE and don't forget to PIN IT!
Until next time! 
Remember to ~
Eat Clean ~ Stay Lean!
Risa