Bread – we love it but it's usually filled with bad carbs that spike our blood sugar and cause our insulin to rise. Not really a good thing. That is why I was excited to find this low carb bagel recipe along with some of the other low carb bread recipes I've been trying. Because who doesn't love bread and butter, toasted bread with cheese melted on it, or avocado toast?!!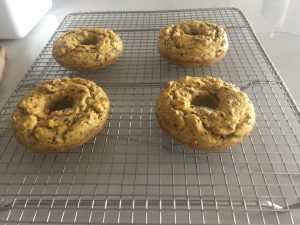 This recipe is supposed to make 6 bagels, BUT I can only get 4 out of it. If I made six I wouldn't be able to cut them in half and they would just be too tiny.
Low Carb Bagels
Ingredients
4 eggs
¼ cup (30g) golden flax seeds (not ground)
½ teaspoon apple cider vinegar
¼ cup (16g) sifted coconut flour
¼ teaspoon baking soda
¼ teaspoon sea salt
¼ teaspoon poppy seeds
¼ teaspoon dried onion, or onion powder
1 tablespoon plus 1 teaspoon sesame seeds, divided
Directions
Preheat oven to 350°F. Coat a donut pan with cooking spray.
Add eggs, flax and apple cider vinegar to a stand mixer or bowl. Beat for 1 minute, then let sit for 5 minutes.
Add remaining ingredients, reserving the 1 teaspoon of sesame seeds for sprinkling on top.
Let sit for 3 minutes.
Pour batter into 6 donut wells. Sprinkle with sesame seeds, and additional poppy seeds and sea salt, if desired.
Bake for 12-13 minutes, or until firm. Before serving, slice and toast, and top with butter, avocado, eggs, or whatever you choose.
Try them and let me know what you think! Don't forget to
SHARE
with your friends and family who want to get healthier and FEEL better!
Wishing you HEALTH and HAPPINESS!