I've been learning so much more about our bodies which has led me to start eating less carbs. Why? Because simple carbs or too many carbs(even complex) raise your blood sugar levels which isn't a good thing. The wheat in breads, even whole wheat, isn't necessarily good for our bodies either. We've been told that we need whole grains in our diet, but the truth is that we don't. They aren't nutrient dense and for many people they're more harmful than people realize.
So when I came across this easy low carb roll recipe I decided to try it out. It's also Gluten Free – so just an added bonus!
I'd tried another low carb bread recipe that wasn't bad, but the consensus, between my hubs and I, is that we like these rolls and the bagel recipe I have to share with you best so far.
Mind you, I've only tried 4 bread recipes so far :)! Many of the recipes I've checked out call for a lot of eggs, but this one was just 3 egg whites and you didn't have to beat them separately and then fold them in. This made for a really easy recipe and the bread comes out soft inside. If you cut it in half and toast it, then it's got a crisp outer crust.
You can shape this dough into rolls, small or large, or you could make sub rolls. You could also maybe shape it into a bread loaf, or cook it in a loaf pan. I'm not sure as I haven't tried that yet.
All I know is that if you're looking for a super easy low carb roll recipe that has great fiber – look no further!
This recipe is from Ketovale
Easy Low Carb Rolls
1 1/4 cup of almond flour
3 egg whites
1 cup hot water
5 tablespoons psyllium husk
2 teaspoons apple cider vinegar
2 teaspoons baking powder
1 teaspoon salt
Sesame seeds (

I actually didn't do the topping part – so that's up to you

)
Instruction:
Preheat oven to 350 F degrees
Mix all ingredients and divide into 4-6 pieces and shape each into a ball. Flatten the ball so it's about 1 centimeter thick. (

these will rise and become rounded

)
Glaze with egg yolk and sprinkle sesame seeds on top of the bun. (optional)
Bake on lower rack in oven for 50–60 minutes, depending on the size of your bread. They're done when you hear a hollow sound when tapping the bottom of the bun.
Serve with butter and toppings of your choice. Store the bread in the fridge or freezer.
Macros (per serving): Calories: 73kcal – Fat: 2.8g – Net carbs: 3g (total carbs: 9.5g, fiber: 6.5g) – Protein: 3.1g
Dry ingredients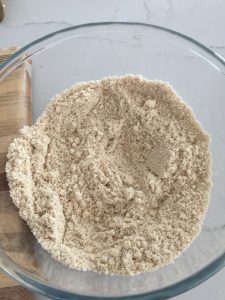 Add the wet ingredients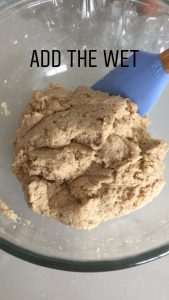 Form rolls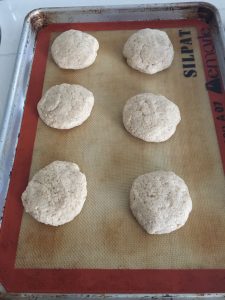 After you bake them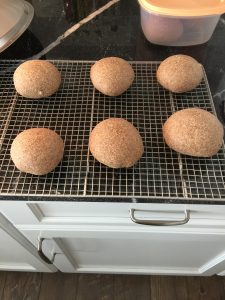 Slice in half and toast or add your topping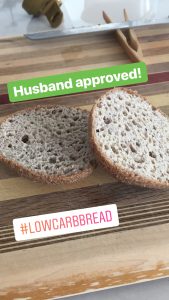 Makes a great burger bun!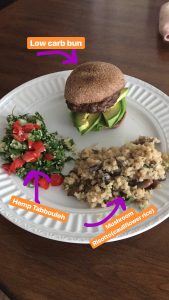 Try them and let me know what you think! Don't forget to SHARE with your friends and family who want to get healthier and FEEL better!
Wishing you HEALTH and HAPPINESS!