Baked Zucchini Fries are going to be your new best buddy! Who doesn't love a good fry. But gone are the days of driving through Micky D's and getting their french fries filled with grease, bad salt, and then feeling bloated and sluggish afterwards. When you know better – you do better. At least I do :)! And I'm assuming that YOU do too!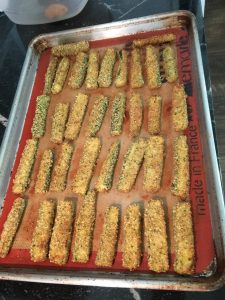 Who wants to feel crappy and sluggish after eating? Not me anymore. So I'm always looking for recipes that will let me enjoy foods that I love BUT that don't steal my energy.
These are SO darn good that my hubs could barely get enough. I made a lot(for 2 nights and for lunches) but had to ration them out or else they'd be all gone in one sitting.
This recipe is from the 131method that I've been participating in since just after Thanksgiving.
They're LOW in CARBS so are great for a low carb or keto nutrition plan, while having great healthy fat and protein.
Baked Zucchini Fries
Ingredients:
1 (380g)

large or 2-3 small zucchini

1 cup

hemp seeds/hearts

¼ cup plus 1 tablespoon

nutritional yeast

1 teaspoon

garlic powder

½ teaspoon

sea salt

¼ teaspoon

black pepper

1

egg

2

egg yolks
Preheat oven to 400°F. Slice ends off zucchini. Slice in half, then slice each half into about 10 large French fries. Dry well with paper towels.
In a small blender or mini food processor, add the hemp, nutritional yeast, garlic powder, salt and pepper and pulse until the hemp breaks down and you're left with crumbs the size of sand. Pour onto a plate.
Lightly whisk egg and yolks in a shallow dish. Dip zucchini into egg mixture, followed by the hemp mixture, pressing well and coating all sides.
Lay onto a baking sheet lined with a Silpat or parchment paper. Coat tops with cooking spray.
Bake for 23-25 minutes or until golden. Serve with any of our ONE3ONE creamy dressings, our mayonnaise or a store-bought Paleo mayo.
We calculated the recipe's macros based on using up all the ingredients, however, if you have remaining egg or topping, your macros will be lower.
Calories:

324

Protein:

21g

Fat:

22.5g

Carbs:

8g

Fiber:

5g

Net Carbs:

3g
Try them and let me know what you think! Don't forget to SHARE with your friends and family who want to get healthier and FEEL better!
Wishing you HEALTH and HAPPINESS!