Who doesn't LOVE a chocolate chip cookie? And a Low carb chocolate chip cookie is even better. Right?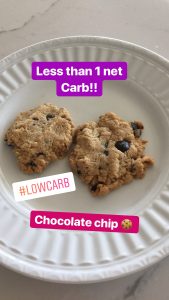 I know that for some people chocolate isn't their thing – but then they're probably not reading this!
Now WHY would you want a low carb chocolate chip cookie? Why low carb at all?
Sugar and carbs spike your blood sugar which means it raises your insulin levels – this isn't good. Proteins and fats don't typically have an affect on your blood sugar levels.
What makes this recipe low carb? The sweetener source.
I normally make all my cookies and sweet treats with 100% maple syrup. That one ingredient alone is the reason that the cookies are high in carbs. If you replace that with Stevia or another natural sweetener the cookie becomes low low low carb.
I've tried Erythritol, but it doesn't agree with me – it can cause digestive issues. You want to make sure you realize that all these "non sugar" natural sweeteners are still highly processed, so you want to use them sparingly. You also want to buy good quality – remember it's going INTO YOUR body and most likely your families – quality of ingredients matter!
Does that mean I can eat the whole batch? NO. When you eat something sweet, it triggers a response and can make you want more and more – so you really want to significantly lower the sugar/sweetener of any kind that you consume.
This recipe is from Comfybelly's chocolate chip cookie recipe – I LOVE their recipes!
BUT I made one change – instead of 1/2 cup of maple syrup I used 1 tsp of liquid vanilla stevia – I would say that you'll want to play with the amount to your taste – but too much will make it bitter, so be careful.
This amount actually worked fine for me. They're definitely not as sweet as the cookies I make with maple syrup, even though I don't even use the full 1/2 cup of maple syrup, but I thought they tasted great.
Made with stevia, they're also crisper, where as the maple syrup cookies are softer.
Here's the recipe I used – again adapted from the Comfybelly recipe!
Low Carb Chocolate Chip Cookie Recipe
Ingredients
2 1/2 cups of almond flour
1/4 teaspoon of salt
1/4 teaspoon of baking soda
8 tablespoons of unsalted butter, melted (or 1/2 cup of coconut oil melted)
1/2 tsp liquid stevia (I used vanilla)
1 egg
1 tablespoon of vanilla
1 cup of chocolate chips
Preparation
Preheat your oven to 350°F (175°C, or gas mark 4).
Combine all the dry ingredients in a bowl and blend with a spoon.
Add the wet ingredients and blend it well with a spoon.
Drop about a tablespoon of batter in each cookie spot on the cookie sheets. Space them about 1 1/2 inches apart.
Bake for 12 to 15 minutes, or until they are starting to brown around the edges. (I bake them for 13 mins in my convection oven)
Let me know if you try them and your thoughts. I LOVE to hear from you!