A healthy donut hole recipe? Really? YES!!!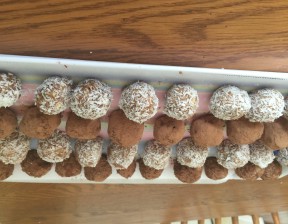 Are you always on the lookout for healthier sweet treats? I am! I can't say I eat a lot of sweets, but do periodically want something, however I work very hard to stay away from refined sugar as I've noticed that for my body, natural whole sugars seem to metabolize differently.
I don't feel icky and sluggish, bloated or bad after eating a sweet treat with honey, 100% maple syrup, or date paste. Those are my 3 sweeteners that I use for all my sweet treats. I definitely feel like crap when I eat refined sugar! AND I notice weight gain too!
One of my favorite people to follow is Melissa Costello, founder of karmachow.com, because I love almost all of her recipes and they always come out great for me. So this was not a surprise when I made these for a girls night and of course everyone loved them.
It uses whole ingredients, which is the key to eating clean, and not feeling bloated and sluggish after you eat.
If you're struggling to figure out WHAT whole ingredients mean, or how to start eating clean, then pick up my Clean Eating Made Simple program and you'll learn how to simply move yourself to a healthier better YOU!
This donut hole recipe is super simple, just uses a food processor and the second batch we added some brandy for some holiday cheer!
Donut Hole Recipe
Ingredients
1  1/2 cups cashews
1/2 cup walnuts
1/4 cup shredded coconut
1/2 teaspoon sea salt
5 dates, pitted
1/4 c. grade B maple syrup or brown rice syrup

(I always use 100% maple syrup)

1 teaspoon cinnamon
1/4 teaspoon freshly grated nutmeg
1 teaspoon vanilla extract
In a food processor cup fitted with the s-blade, grind the cashews, walnuts, coconut and sea salt to a crumbly consistency but leaving some chunks of nuts.
Add in remaining ingredients and process until the mixture forms into a sticky dough. Remove lid and scrape out into a bowl. Roll into small truffle size balls. Then roll in cinnamon, cocoa or cacao powder, or shredded coconut. Store in the refrigerator.
Simple recipe, super delicious, everyone loved them!
If this has been helpful and you know that someone else could use this information please SHARE IT and PIN IT! And don't forget to leave me a comment below!!! I LOVE to hear from you AND I'd love to hear WHAT I could help you with in the future!! 
As Always ~ Remember 
Eat Clean ~ Stay Lean 
Risa
PS:
Need a little treat? Check out my 4 Ingredient Chocolate!