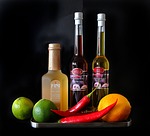 I'm eating salads so I should be losing weight and getting super healthy right??? What you may not realize is that your salad dressing is sabotaging your good intentions. As with so many items, there are a ton of salad dressings out there so once again it's hard to figure out which are the healthy salad dressing options. Low fat, no fat, regular, which one to buy? Hopefully we can help you out so that you can move towards healthier.
First a couple of things to know. Research shows that healthy fat helps you absorb more nutrients from your veggies. So a healthy fat like olive oil, avocado oil, or a fresh avocado salad dressing would be a great healthy salad dressing option.
Salads are filled with nutritents like carotenoids, which include lutein, lycopene, beta-carotene and zeaxanthin, which are fat-soluble. This means that  carotenoid-rich foods must be eaten with some measure of fat to make the nutrients available to humans. So a healthy fat with your salad is good idea.
Check out the video so you can see some better store bought options, then be sure to try the recipes below as they can be easily made and stored in the frig for a couple of weeks!
Recipe #1 This is a great one for an Asian salad or an Asian coleslaw
Dressing Ingredients
2 TBLS. sesame oil
1 TBLS. honey
¼ cup rice wine vinegar
¼ tsp. red chili pepper
Blend all ingredients in a blender cup (or standard blender).
Recipe #2   Balsamic Vinaigrette ~ you can also sub tangerine juice for lemon
Dressing Ingredients
3 Tbsp Balsamic vinegar                                 
2 Tbsp fresh lemon juice                                
1 tsp Dijon mustard                                           
½ tsp Raw honey(or pure maple syrup)
3 Tbsp exta virgin olive oil
Combine vinegar, lemon juice, and honey and whisk together. Stir in mustard and mix. Slowly add oil while whisking. Or blend all in blender.
You can make other vinaigrettes following this same basic recipe. Just use different vinegar. This will store in the frig for a couple of weeks.
Recipe #3   Creamy Herb Dressing (from the 21 day fix)
(Makes 12 servings, about 6 tsp each)
1 medium avocado, cut into chunks
1 ½ cups non fat plain greek yogurt
4 Tbsp finely chopped herbs like tarragon, parsley, mint, cilantro
3 Tbsp fresh lemon juice
¼ tsp sea salt
1 dash ground white pepper(watch out this is spicy)
1/3 cup extra virgin olive oil
Place avocado, yogurt, herbs, lemon juice, salt and pepper in a blender. Blend until smooth. Continue blending avocado mixture and slowly add the oil until well blended. Store in the frig for 2-3 days.
There are a LOT of other healthy salad dressings to be made, so play around with it and let me know how yours come out or if you find one I need to try!
As Always ~ Remember 
Eat Clean ~ Stay Lean
Risa
We ALWAYS love to hear from YOU! If you found this helpful please SHARE and don't forget to PIN IT!
Did you know?
Beachbody On Demand is HERE!!! You can now stream world class workouts in your home!! P90X, P90X2, P90X3, Insanity, Turbo Fire and MORE!!! 
Click >>>>>HERE  to learn more and get access!!!