Do you scramble in the morning looking for something to eat? Scramble no more for overnight oats are here! This can be a breakfast or a snack, as it has a lot of protein if you use greek yogurt so it will definitely hold you over until your next meal. It's quick and easy to make the night before, or make several at the beginning of the week and keep them ready in the refrigerator for up to 5 days.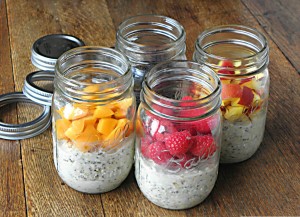 There is NO COOKING involved with overnight oats. They are basically raw oats(so old fashioned oatmeal or steel cut oats), the milk of your choice, and yogurt. I use unsweetened almond milk or cashew milk. You just put everything in a jar or container and they soak up the liquid overnight ~ in the morning you have overnight oats! If you use steel cut oats it will be a little chewier unless you cook them first.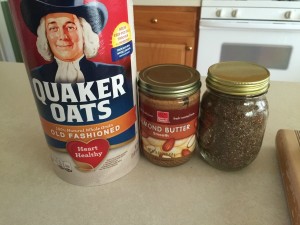 You can add any fruit, you can mix it before you refrigerate them or just layer it and mix in the morning(this is what I do). 
In the morning you can top them with homemade granola, or anything else you want.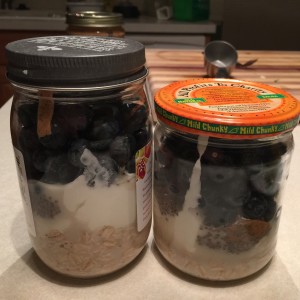 Here's a GREAT video from my friend Renee. She did this for our online fitness group during our video week challenge and what a great job she did! You'll find that everyone does different measurements, so play around with how YOU like it! This is a popular meal that works great with the 21 day fix workout program!
Overnight Oats
Ingredients
1/3 cup Rolled Oats
1/3 cup almond milk ( or any milk you like)
1/2 cup of plain greek yogurt
1 Tbsp chia seeds (optional), these are a great source of protein and omega-3
1/2 Tbsp any kind of nut butter (optional) 
1 tsp of honey (optional) OR maple syrup
1/2 cup chopped frozen cherries or any fruit ~ I use frozen mixed berries.
What to do!

Assemble in a container in the order above. I like to use mason jars, but you can use whatever you have on hand. I leave it as a parfait overnight and then stir it right before I eat it, but some people mix it in a bowl first and then put it in their container. Whichever is easier for you.
Let me know what YOU do and how it comes out! Leave me a comment below!
As Always ~ Remember 
Eat Clean ~ Stay Lean
Risa
If this has been helpful and you know that someone else could use this information please SHARE IT and PIN IT! And don't forget to leave me a comment below!!! I LOVE to hear from you AND I'd love to hear WHAT I could help you with in the future!! 
PS Need to improve YOUR Health? Join my FREE 14 days to a NEW YOU!
Click Here to schedule a free 20 min consultation so you can feel your best!