It's fall and it's time for pumpkin everything. Pumpkin lattes and a pumpkin shake recipe that is so good I look forward to it every day. Actually I go to bed thinking about how I'm going to get to have it the next day!
It seems that you either love pumpkin or are not a big fan. I don't think I used to care for it, but as I've gotten older I've obviously acquired a taste for it. What's funny is that when you try pumpkin out of a can or freshly baked without spices on it, it really doesn't have a lot of flavor. It's the pumpkin pie spices and cinnamon that bring out the pumpkin flavor it seems.
There are a lot of great health benefits of pumpkin, which make it worthwhile to add to your lifestyle.
great source of beta carotene which may play a role in cancer prevention

Lots of vitamins and fiber that support heart health, like vit A,C

the fiber is also great to help with weight loss

pumpkin seeds are rich in certain plant-based chemicals called phytosterols that have been shown in studies to reduce LDL or "bad" cholesterol

pumpkin seeds are rich in the amino acid tryptophan which can help your mood
So get some more pumpkin into your diet – here's one way.
I love this morning pumpkin shake recipe!
Pumpkin Shake Recipe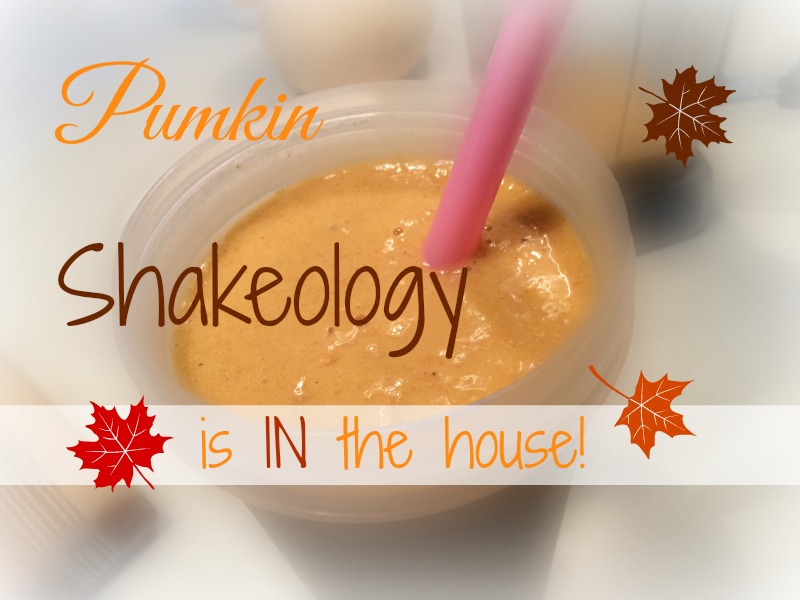 In a blender add the following:

8 oz ice
1 banana
2 heaping TBSP of 100% pure pumpkin puree ~ I use organic ~ feel free to add more if you like
1 cup unsweetened almond milk
1/2 cup water
1 tsp (or a little more) pumpkin pie spice ~ I don't always measure, I just pour some in there :)!
2 tsp of cinnamon 
Blend all of the above ingredients then add
1 scoop of Vanilla Shakeology
Blend some more ~ top with nutmeg if you like! 
I know there are a lot of "protein shakes" out there, but please please please READ the ingredient lists. Many of them have crap that your body really doesn't want and doesn't benefit your body. 
If you see sucralose, canola oil, artificial colors, caramel color, corn syrup, soy lecithin, carageenan – these are just a few of the bad ingredients in shakes that I've looked at, so please read the ingredient list.
When you read the Shakeology ingredient list – it's all superfoods, vitamins, minerals, grasses, probiotics, and plants from nature. I've been using it now for about 5 years daily and have been in better health, less sick, and had more energy than I ever did before. Here are some people who felt that same way. 



And this was from a lady with Fibromyalgia 
"Thank you for telling me about the shakes!!! After less than one month I have noticed a BIG difference in a few of the MANY fibromyalgia whammies. The IBS is almost non-existent and I have noticed more energy. My afternoon naps are shorter and Migraines are fewer. I was surprised bout the migraines. I replace my lunch with a shake. Love the Vanilla and the Strawberry. I throw in fresh cranberries, frozen raspberries ( haven't been able to eat these for a few years ), half a banana, even canned pumpkin! I believe the food we eat has an affect on our bodies. The ingredients in the mix all are beneficial and are noted for healing and energy. I was skeptical and did a lot of reading and research. I love it.."
Feel free to try it for yourself – it has a 30 day money back guarantee. Just click here to check it out. 
If this has been helpful and you know that someone else could use this information please SHARE IT and PIN IT! And don't forget to leave me a comment below!!! I LOVE to hear from you AND I'd love to hear WHAT I could help you with in the future!! 
As Always ~ Remember 
Eat Clean ~ Stay Lean 
Risa
PS:
Need a little treat? Check out my 4 Ingredient Chocolate!