Salad in a jar! What a totally GREAT idea!! I have a friend who takes these to work – she's a teacher and has told me about them, but I just NOW got around to trying it for myself – so now I can report back to YOU! 
It's AWESOME! I made my salad in a jar for 4 days this week, that's only because I ran out of jars. 🙂  You can put whatever YOU like in your salad. I'm also using the portion fix containers to track how much of each macronutrient I'm eating and this works easily with the containers.
The big reason that I decided I needed to do this was because I work at home and noticed that I tend to eat all my greens and veggies at dinner. When I worked full time teaching I took a huge salad everyday to work and then usually had another salad with dinner and other veggies. However, working at home I don't always take the time to make myself salad or anything that has enough veggies.  BUT if I these on Sunday for the week, it's SO easy to just grab it and flip it in a bowl. Saves me time during the week so I can work, not prep my food. Yes, we all get lazy don't we :)! 
If you want to put your dressing at the bottom you can. Since I used hummus as my dressing I just added that at the time of eating. However, if you decide to put the dressing at the bottom, you'll then want to put your harder veggies next – so things like cucumbers, celery, carrots. Now if you're using an oil/vinegar dressing many people put tomato in there too(cherry tomatoes, not already cut up ones as those would get soggy) and by the time you eat it the veggies have absorbed some of the flavor and vinegar so they'll be a little pickled. It's really entirely up to you.
You'd then put your beans, pasta, or grains, then you can put protein and cheese IF you're going to eat it within a couple of days, otherwise I'd add these at the time of eating, then your lettuce and seeds last. 
Here's my video that shows you how I put together my salad in a jar. 

Remember that you can do whatever YOU like! Experiment with different veggies like beets, raw or roasted, edamame, pea pods, or anything else you can think of to add in there. The more veggies the better. 
When you're ready to eat your salad in a jar – just flip it over into your bowl, and it all comes out in a perfect salad. I then added my eggs, quinoa, and hummus and gobbled it up! Salad #1 was fresh and delicious!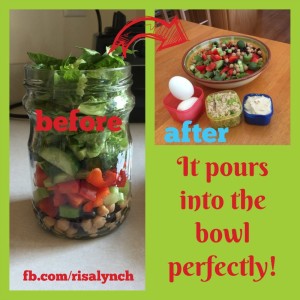 ****UPDATE *****
All the salads for the week were crisp and delicious!! 
Need a salad dressing for your salad in a jar? No problem!!
Ginger Salad Dressing
Ingredients
1-1/2 cloves garlic, minced
1 tablespoon minced fresh ginger root
1/4 cup and 2 tablespoons olive oil
2 tablespoons and 2 teaspoons rice vinegar
1/4 cup soy sauce or tamari
1 tablespoon and 1-1/2 teaspoons honey
2 tablespoons water
Mix everything together. I put it in the blender and blended – this will make the flavor of the ginger come out. When just whisked together you don't really taste it. 
Orange Ginger Dressing 
1/3 cup fresh orange juice from 1 medium orange (use sweet oranges)
1 1/4 tsp apple cider vinegar
2 1/2 tbsp hemp hearts/seeds (sub sesame or tahini if you can't find)
1 tsp fresh ginger
2 small dates pitted and chopped (soaked if you don't have a Vitamix)
1/8 tsp salt
Blend all ingredients. 
You can find more salad dressings >>>> HERE
Let me know what YOU do and how it comes out! Leave me a comment below!
As Always ~ Remember 
Eat Clean ~ Stay Lean
Risa
PS:
Need a little treat? Check out my 4 Ingredient Chocolate!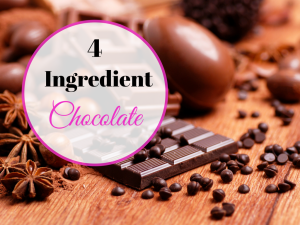 I ALWAYS love to hear from YOU! If you found this helpful please SHARE and don't forget to PIN IT!
Click Here to schedule a free 20 min Health Coaching consultation so you can feel your best!
Did you know?
Beachbody On Demand is HERE!!! You can now stream world class workouts in your home!! P90X, P90X2, P90X3, Insanity, Turbo Fire and MORE!!! 
Click >>>>>HERE  to learn more and get access!!!